Why Tencel ?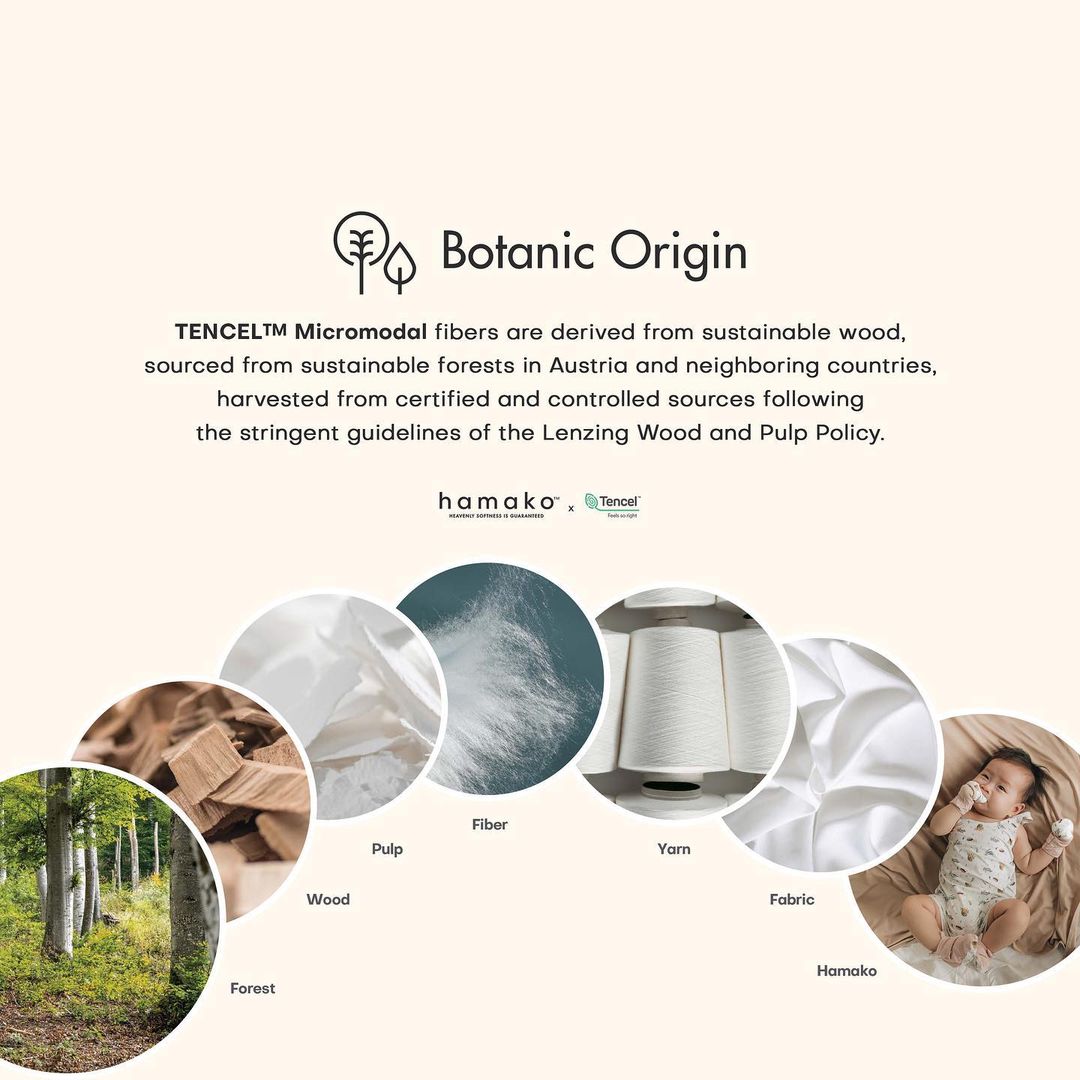 Makes the world a softer place with Tencel.
Fabric of Tencel micromodal®️ are exceptionally soft, supple and cooling - the material used by Hamako brand.
Tencel material is sourced from Austrian beechwood in Austria sustainable forests. Hence, it is a fabric material made of wood. It is the newest material which had recently been commonly used in bedding and luxury tees such as Gucci and Armani, but 1st time in baby & kids clothing.
They are premium in price due to heavenly material used ~ cooling soft, second skin feel perfect for sensitive and eczema skin, plus fully biodegradable. Read more below to know more.
Click Here to view the Tencel Baby & Kids collection.

What is Tencel and what is Micromodal?
🌿 Tencel has been known in bedding but rarely in clothing. It is well known for the luxurious soft touch and cooling feel.

Tencel fabric are made from renewable Austrian beechwood sources using sustainable production processes by Lenzing Austria. Clothing that uses tencel material will melt back to earth after buried under ground for 16weeks, making it sustainable and earth friendly.

🌿 Micromodal Tencel is one of the highest grade Tencel material. Bedding uses woven Tencel which is not stretchable like modal Tencel for clothings. MicroModal uses a finer fiber than Modal. Because the fibers are smaller, spinning thread and making textiles out of them requires that more be used. Additionally, it means that the fibers can be woven together incredibly tightly. Hence, micromodal Tencel is the highest grade tencel.

One of TENCEL™️ (Micromodal) benefits is Unfavourable for Bacterial Growth. The fabric can absorb sweat 3x faster than Cotton hence the premium in its price. Quick dry fabric makes your kids feels comfort all day long.

Tencel Micromodal from Lenzing are also certified by OEKO Tex free from harsh chemicals, hence they are sustainable and organic.

Hamako found this heavenly fabric as the right material that is sustainable, long lasting and extremely soft beyond standard, without damaging the environment. Combining durable design and material at the same time.
You will understand their tagline "Heavenly Softness is Guaranteed" when you touch Hamako products.


Perfect Finish, Best Materials
Austrian Tencel ™
A Better Life
Our Hamako brand products are made of 100% Austrian Tencel ™, made from cellulose which is found from beechwood trees. It bears a resemblance to silk while being more breathable and moisture absoribing
100% Tencel ™
Our natural fibers which are 100% organic and hypoallergenic
Soothing cool feeling, feels comfortable and holds up well overtime in any environment
Fiber Story
Today's consumers want to be sure their purchases will not harm the environment – while they also seek style and comfort. TENCEL™ fibers – found in the collections of many leading designers and renowned retailers – answer both these demands.
From their botanic origin, to the low environmental impact of production, to eventual biodegradability on disposal, TENCEL™ fibers exemplify sustainability in the textile industry. Benefits ranging from long-lasting softness to good color retention and contribution to breathability make TENCEL™ the fiber brand of choice for many leading garment and home furnishing producers.
The versatility of TENCEL™ fibers as blending partners with many other fibers can enhance the aesthetics and functionality of fabrics for numerous different applications.
Leading the way to sustainable fibers
TENCEL™ Modal fibers transform textiles to meet everyday consumer needs.
Derived from the sustainably sourced renewable raw material wood, and produced by environmentally responsible processes, TENCEL™ branded cellulosic fibers define a new standard of sustainability and natural comfort. To understand how TENCEL™ is helping to tackle the sustainability issues facing the textile industry, learn more below:
Sustainability with superb softness
Numerous innovations have been integrated in the production of TENCEL™ Modal fibers, to make the process environmentally sound, with efficient use of natural resources and low emissions.
The resulting fibers are known for being exquisitely soft and pleasant to the skin, offering endless design possibilities. To discover why TENCEL™ Modal's eco-responsible production process earned the EU Ecolabel for environmental excellence, learn more below: