Hospital Bag Checklist
Our Hospital Checklist is an invaluable resource to help prepare for the arrival of your little one. Whether it's your first child or not, our detailed checklist will ensure you have everything you need—for both mum and baby.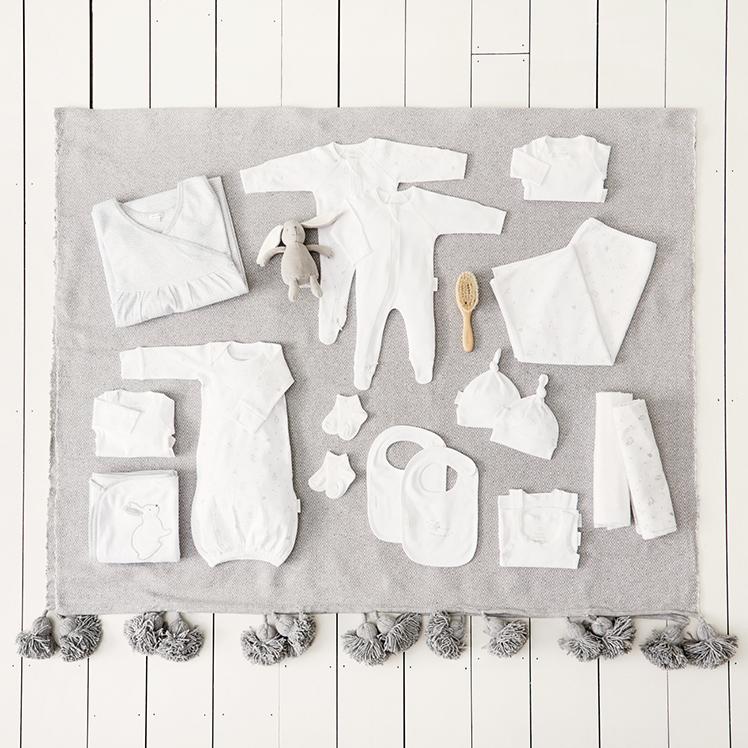 Our Hospital Checklist is an invaluable resource to help prepare for the arrival of your little one.
Download a printable version of the Hospital Checklist here.
For Mum
Documents And Paperwork
• Your birth plan and maternity notes.
• A pen and paper/notebook.

Clothes
• An old nightdress or a shirt to wear during labour.
• Pyjamas or a nightgown (one that opens in the front if you're planning on breastfeeding).
• A lightweight robe or dressing gown, as hospitals are typically warm.
• Warm socks.
• Slippers or flat slip-on shoes.
• Plenty of comfortable underwear.
• Casual clothes, including front opening tops for breastfeeding. Don't expect to wear your pre-pregnancy clothes straight away, so take loose fitting or maternity clothes.
• Breastfeeding bras.
• Clothing for the trip home—make sure you select items that are roomy and comfortable.
Toiletries
• A toiletry bag, including a hairbrush, body wash, shampoo, conditioner, moisturiser, deodorant, toothbrush and toothpaste.
• Lip balm.
• A face washer and/or face spray.
• Massage oil or lotion if you'd like to be massaged during your labour.
• A hair-tie if you have long hair.
• Eye glasses if required. Contact lenses may need to be removed prior to a C-section.
• Maternity sanitary pads.
• Absorbent breast pads.
Additional
• Medicare card and/or private health insurance card.
• Camera and/or video with batteries and/or a charger.
• Snacks and drinks for during the labour.
• Items to help you relax and pass the time, such as music, books or magazines.
• A list of important phone numbers, including family, friends, older children's carers/school.
• Change for parking, snacks or the phone. Mobile phone use is not permitted in some hospital areas.
• Plastic bags for dirty clothes.

Additional items for your partner
• Comfortable shoes.
• A change of clothes.
• A watch or clock with a second hand for timing contractions.
• Swimwear if you want to join the mum to be in a birth pool.


For Baby
Growsuits Or Sleepsuits
(Quantity – Two per day, plus some extras)
• Growsuits are essential for newborns.
• Our iconic growsuits for baby boys and baby girls feature a double way zip; fold over mittens; and a zip cover to protect soft skin from catching.
• They're available in newborn sizes and smaller premi sizes.
• Our Essentials growsuits are also available in a two-pack
• For premi babies, our crossover growsuits allow for the easy care of precious newborns.
• You might also want to consider our sleepsuits, which feature an envelope neckline and an elastic opening to facilitate easy nappy changes, whilst keeping your baby warm overnight.
Singlets Or Bodysuits
Quantity – Two per day, plus some extras
• Newborn bodysuits or singlets make for easy layering when worn under a growsuit.
• Our Essentials range also offers singlets and bodysuits in a two pack.
Hat Or Cotton Beanie
(Quantity – one per day, plus some extras)
• Knot hats and knitted beanies are a necessity for most newborns, especially those born in winter.
• Our newborn knot hats are available in both small and medium. The knot can be adjusted for a comfortable fit.
Mittens
(Quantity – one to two sets)
• Mittens will not only keep your baby warm but they will prevent little hands from scratching their delicate face.
• These are important if your growsuits don't have in-built mittens.

Socks And Booties
(Quantity – one per day, plus some extras)
• Socks and booties will help keep your little one warm.
• Our booties are designed with a wide fold-over cuff to ensure they stay on little feet.
• Booties can also be worn over growsuits for additional warmth.

Blankets
(Quantity – two blankets)
• If the weather is cold, ensure you pack a thick warm blanket to place over your swaddled newborn.
• Purebaby blankets are made from 100% certified organic cotton and are designed to last for many seasons.

Bunny Rugs
(Quantity – two bunny rugs)
• Like blankets, our bunny rugs can provide extra warmth to a swaddled newborn.
• Similarly, they're made from 100% certified organic cotton and will last for many seasons.

Muslin Wraps
(Quantity – four muslin wraps)
• Most hospitals and midwives recommend newborns be swaddled in breathable muslin wraps.
• Our muslin wraps are 120x120cm and are sold individually or in packs of two.
• Like our blankets and bunny rugs, they're made from 100% certified organic cotton.

Going Home Outfit
(Quantity – two outfits)
• Leaving the hospital is a special moment for you and your family.
• It's important to pre-plan a growsuit, jacket, hat and booties you'd like to take your baby home in.
• It's worthwhile packing a spare outfit, in case one gets soiled.

Baby Towel
(Quantity – one towel)
• It can be nice to have a towel for your baby's first bath.
• Made from 100% certified organic cotton our towels are soft on newborn skin.

Nappies
(Quantity – up to 10 per day)
• Wipes And Cotton Wool Balls

Face Washers
(Quantity - 2 face washers)
• A muslin face washer is soft, absorbent and non-bulky, perfect for washing your little one's folds and creases.
• A 2 pack of muslin face washers can be found in our Essentials range.

Don't forget – Your baby must travel home from the hospital in a suitable infant car seat, which for newborns is a rear-facing capsule. Make sure you have a capsule correctly installed prior to your baby's birth.

Build your Hospital Bag here. You'll also find all the items for your Hospital Bag and Baby's First Wardrobe in our Essentials Range.