What to Pack for Childcare

Learn whether your child is ready for daycare with Purebaby. Find out what to pack, how much childcare costs, whether it's mandatory in Australia and more now.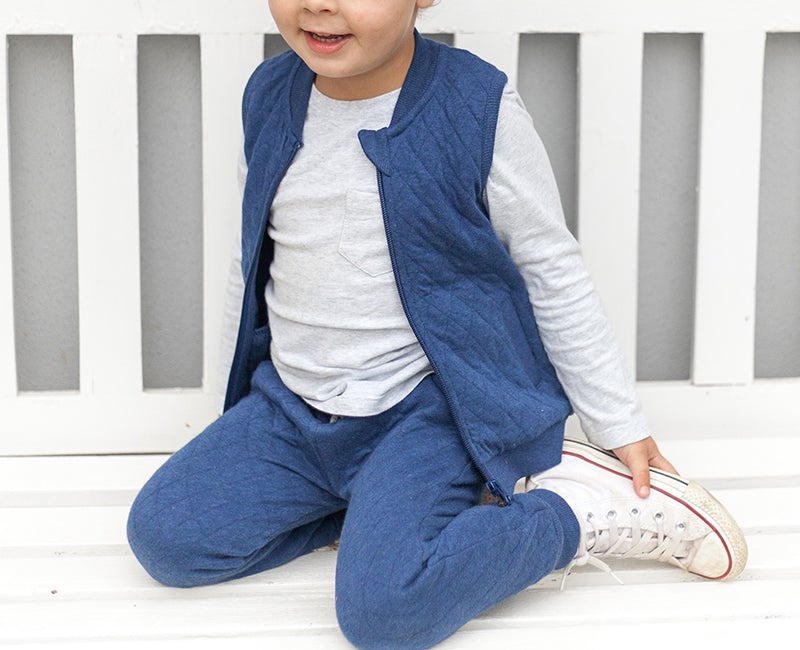 Sending your little one to daycare for the first time is a big milestone and can bring on lots of different emotions. There are many questions that come with a decision to send your toddler off to childcare: Are they ready? How much does it cost? And how do I get them organised for a day at daycare?
In this blog, we'll cover some of the big questions that often get asked to help make your child's transition to daycare as smooth as possible.
Is daycare mandatory in Australia?
No, daycare is not mandatory in Australia. In 2017, around 3 in 5 Australian children attended some form of childcare. In addition to supporting parents' return to work, there is growing evidence that quality early childhood education improves both children's developmental opportunities and school readiness. However, the decision to send your child to childcare is completely up to you.
How much is child care?
Childcare costs vary from provider to provider and from state to state. Centre-based childcare can cost anywhere between $70 and $180 per day, while family day-care (where individuals care for children in their own home) can cost between $6 and $17 per hour. Factors like opening hours and whether they supply meals and nappies can impact the cost of childcare. It's best to do some research into your local childcare centres and family day cares to understand their fees before deciding.
The Australian Government has a Child Care Subsidy to help parents cover the costs of daycare, which varies based on each family's situation.
How do I know if my child is ready for daycare?
While many experts suggest that children are ready for childcare from 12 months, some families send babies under one year old to childcare. There are a range of childcare facilities and trained educators for children of all ages, with many centres equipped to care for very young children. It ultimately comes down to the unique needs and circumstances of you and your child.
Thinking about the following can help you assess your little one's readiness for childcare:
1. Independence: Can they walk or get around on their own? Can they play with other children? Can they express themselves?
2. Routine: Has your child got routines in their life? Do they have consistent meals and sleep times?
3. Separation: Have you and your baby ever been separated for long periods of time? Have they spent time with trusted family members or friends?
4. Curiosity: Are they interested in shapes and sounds? Do they enjoy reading books and pointing out illustrations? Are they trying to draw or scribble?
These behaviours suggest that your little one might be ready to spend some time at daycare, where they can learn and build on their social and developmental skills.
What should I pack for daycare?
A general rule of thumb is to pack anything your little one might need during a regular day at home. It's also a good idea to check with your childcare centre about what they provide, as some provide things like meals, nappies and sunscreen.
Here's a list of essential items most children would need during a day at childcare:
Daycare packing list
- Bottles plus expressed breastmilk or formula, depending on your child's feeding routine
- Nappies
- Sun hat
- Water bottle
- At least two spare sets of clothes
- Medicines and medical record
- Comfort items – 1-2 special items that will help comfort and soothe your little one, like cuddly toys, their baby blanket, books or a family photo
- A sleeping bag for nap time
- Waterproof clothing for rainy days
How should I dress my child for daycare?
There are a few things to keep in mind when dressing your child for a day at childcare:
1. Lots of layers: The temperature can vary a lot throughout the day, so dress them in layers that can be removed and added depending on the weather.
2. Comfort is key: Dress your little one in soft, breathable fabrics that are less likely to irritate sensitive skin. Don't forget to pop on a pair of comfortable shoes too.
3. Be sunsmart: Cover little shoulders and make sure you pack a sun hat
4. Avoid special pieces: Clothing for childcare needs to be able to withstand quite a bit of rough and tumble, as well potential hot washes and soaking if things get dirty throughout the day. Leave your little one's good clothing and dress-ups in the wardrobe for special occasions.
5. Label everything!
What food should I pack?
The mealtime arrangements for childcare services vary, and in some cases, you may need to pack food for your little one. If food is not provided, you should pack a healthy morning tea, lunch and afternoon tea in a lunchbox (or insulated container if there is any meat or dairy).
The perfect daycare lunchbox should cover off a few of the main food groups while being easy for your child to eat themselves. For toddlers, start with a main lunch item, like a sandwich or a roll, then add a nutritious snack (cheese and crackers or vegetable sticks and hummus are always a hit) and a piece of in-season fresh fruit. Don't forget to include a drink too – water is best!
What about me?! How should I mentally prepare myself for my child's first day at daycare?
Your child's transition to daycare is a big step, and with it comes lots of different emotions. It's completely normal to feel a mix of excitement, happiness, worry, stress and sadness. After all, your little one is growing up and this may be one of the first times you've spent a long time apart!
It's a good idea to start preparing yourself a few weeks out from your child's first day. Familiarise yourself with the centre and the educators ahead of time so you know what to expect on day one. Some centres offer transition mornings or parent playtimes, which are a great way for parents to get an understanding of how the daycare operates. You could also start creating a 'daycare routine' at home in the weeks leading up to the first day, incorporating set play, lunch and nap times.
Telling the educators everything about your child will also help to put your mind at ease. Share as much information with them as you can, from sleep patterns and social preferences to food allergies and toileting. You can even mention interests and activities they enjoy so that they can tailor their program to your child's needs.
With all big changes, it's good to be able to have someone to talk to about how you're feeling when your child isn't around. Share your thoughts with your partner or other family members, or reach out to other parents or friends for advice and support.