Baby Overnight Bag Checklist
Read about what you need in your baby overnight bag checklist with Purebaby. Find out what to pack for a holiday with a baby, baby travel packing list and more.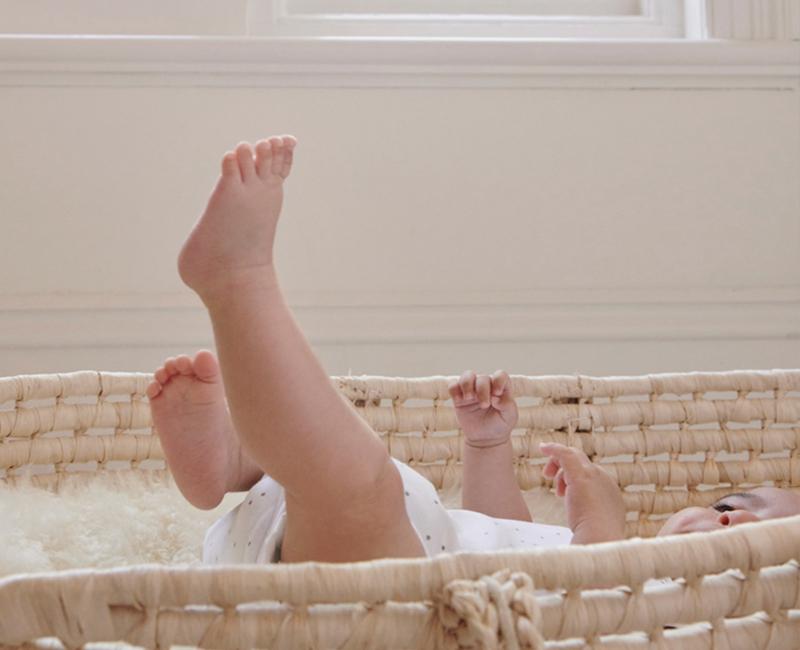 When you're ready to leave the baby bubble, there's nothing better than getting out and about with your little one. Whether you're taking your baby boy on a trip to visit grandparents or travelling out of town for a change of scenery with your little girl, a road trip with your baby isn't as stressful as it might first seem. With a little bit of organisation and planning, heading off on an overnight family trip is a breeze.
3 things to think about when packing for an overnight trip with your baby
So, you've planned your weekend away and you're ready to start packing! As you begin to get organised, keep these three packing principles in mind:
1. Size and Weight
Unsurprisingly, you'll need to take quite a few things with you when travelling with your little one (even if it is for just one night), so the size and weight of each item you take is important – it all adds up!
When it comes to equipment and accessories, try to only pack items made from lightweight materials that fold down into an easy-to-carry size. Not only will this make packing and unpacking a little easier to manage, it will also save space both in the car and at your destination. There are lots of great baby travel accessories on the market, so if you're planning on getting away quite a bit, it might be worth investing in travel versions of key pieces of equipment, like prams and cots.
2. Ease and Versatility
Think about how the items you pack can be used in various ways. For instance, muslin wraps or bunny rugs can double as an extra layer of bedding if it's cold, and some travel cots work well as a playpen for those homes or hotels that might not be as child friendly as you'd like!
When it comes to packing clothes, take a moment to check the weather forecast at your destination. If it's looking chilly, be sure to pack your little one a couple of lightweight jumpers and even a coat, which can be layered over bodysuits, tops and leggings if the temperature really drops. If the forecast is for warmer weather, pack lightweight bodysuits and onesies which can be worn alone during the day and layered at night, and keep the heavier layers to a minimum.
It is also worth considering the fabrics of the clothes you pack for your little one. Opt for styles that effortlessly layer and coordinate and are easy to wash and dry (because accidents happen, no matter how prepared you might be!).
3. Durability
Speaking of accidents, whether you're with a little one or not, things are prone to being knocked and dropped when travelling. Pack the items that can withstand a little wear and tear – the last thing you want when you're away for the weekend is for something to break or stop working, then have to spend your trip trying to replace it!
4. Necessity
We know how tempting it can be to go overboard and pack lots of everything in order to be prepared for any situation. But given all the clothing, equipment and accessories you need to pack when travelling with a baby, it's important to try and pack fewer things where you can.
In the days leading up to your trip, keep a mental note of how many different things you use. For example, think about roughly how many nappies, wipes and pouches of baby food you go through each day. When you go to pack, multiply each by the number of days you're away, then add a few extra of each just in case! That way, you're packing what you actually need (with a bit of a buffer) and not wasting valuable car (and hotel room) space with items you may not even use.
What to pack in an overnight bag for baby
Our handy baby overnight bag essentials checklist will help make getting organised for that night away that little bit easier.
Baby Overnight Bag Checklist
- Baby clothing – pack at least 2 complete outfits for each day you're away
- Warm layers, including jumpers and jackets (at least one of each)
- Hats – a beanie or knot hat and a sunhat
- Baby sleepsuits or pyjamas (at least 2 sets)
- Baby sleeping bag
- Nappies and nappy supplies, including cream, wipes and a travel mat

Other baby overnight trip essentials:
- Baby car seat
- Portable travel cot
- Pram or stroller
- Baby carrier or sling
- Bathware, including face washers, towel, baby wash and lotion
- Blankets, swaddles & wraps
- Food and drink supplies - formula, breastfeeding supplies or solids, depending on your little one
- Feeding equipment, including bibs, sippy cups, spoons, bowls and wipes
- First-aid kit
- Sunscreen
- Baby monitor
- Toys and books
Tips for keeping babies entertained on long car trips
Keeping your little one busy in the car is a great way to help make your trip less stressful. While very tiny babies will likely sleep a lot of the time, as they get older they'll spend more and more time awake looking for stimulation.
Here are a few tips for making the car ride fun for them (and more peaceful for you!):
- Pack colourful rattles and plush toys that your little one can play with and grab at.
- Babies love watching babies! Place a small, unbreakable mirror in front of them so they can gaze at their reflection
- Let your little one flick through books with lots of pictures and interactive elements
- Pop on a kids audiobook
- Press play on your favourite playlist and sing along – not only is the music soothing, but little ones also love the familiar sound of their parents' voices
- Pack snacks and make regular pit stops
Shop our range of the softest GOTS certified organic cotton baby clothing, perfect for any destination with your little one.